ABOUT THE GUILD
The Altadena Guild was founded in 1951 to extend and enlarge the work of the Women's Auxiliary of Huntington Hospital in Pasadena, California, which had been formed 25 years earlier. The Altadena Guild organizes and hosts numerous events every year which benefit HMRI (Huntington Medical Research Institutes), and programs at Huntington Hospital through fundraising, awareness and volunteerism.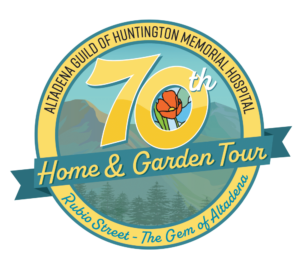 DIVERSITY STATEMENT
The Altadena Guild of Huntington Memorial Hospital is committed to being a non-discriminatory equal opportunity organization. The Guild will not allow discrimination based upon age, ethnicity, ancestry, gender, national origin, disability, race, religion, sexual orientation, or any other status prohibited by applicable law. The Guild believes in diversity, inclusion & equality for every member, prospective members, and those we serve..
MISSION
The Altadena Guild of Huntington Memorial Hospital is a 501(c)(3) nonprofit organization, founded in 1951 and dedicated to providing support to Huntington Hospital (HH) and Huntington Medical Research Institutes (HMRI), both located in Pasadena, California. By raising funds to support these two entities, the Guild aids the advancement of not only excellent healthcare and compassionate services to the community, but also the improvement of lives through patient-focused scientific research.
VISION
The Altadena Guild supports improving peoples' lives through better healthcare, innovation, and community involvement.
VALUES
The Altadena Guild embraces and respects our members, and their time, talents, leadership, and commitments. Participation, community involvement, and volunteerism are critical in achieving our goals and advancing our mission.
Thank You for Supporting our 2023

Annual Home & Garden Tour
See you next year!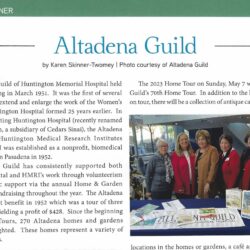 The 2023 Home Tour on Sunday, May 7, will be the Altadena Guild's 70th Home Tour. In addition to the homes and gardens on tour, there will be a collection of antique cars, music at various locations in the hoes or gardens, a café and shopping with a variety of vendors and music.
Read More

→